We purchased our block of land in 1996, and chose it for it's position, shape, having the most trees, and good soil test - equivalent of aquaculture grade clay which would be suitable for our pond which wouldn't need lining with concrete, plastic or other, as we preferred to have a natural floor to the pond for a healthy natural system, Very importantly the area had BORE LICENSES included in the purchase price of the blocks.

Our builder wanted us to check out other acreage areas to build, we did have a look around for him but no other acreage subdivisions came up to the standard of these blocks or this area, the blocks had very few trees left on them, poor soils, many had drainage easements running through them and more importantly NO BORE LICENSE and you had to drive on busy highways to get to them, not a nice pleasant drive with a lovely river to look at, and no shops handy.
We had already been living on acreage in the area for a number of years, so had our hearts set on this block and this area from the start.

We had our block divined for water by Ion Newton and as soon the contract went through on the block and with the builder, we had Ion drill a bore, while we set about starting to dig our pond (that's the mound of dirt you can see half way down the block) and dig footings for my aviary set-up. We were held up by rain on numerous occasions and so was the builder, but the rain certainly helped with digging of the pond which was extremely hard going and took 5 - 6 digs between rain to get a decent depth and size.

Getting our priorities right, first things first - BORE, aviary footings and slabs, and the main feature of our garden THE POND, oh yeah that's right a house to live in, but we're not building that, so not on the list of priorities!!.
Below are two photos of the initial dig of our pond, it rained stopping work, then followed further digs 5-6 in all with rain, apart from being held up it all worked out pretty well helping to soften the ground for digging which was pretty tough going. When the majority of machine digging (Bobcat) was done we did quite a bit of shovel work for further shaping of the pond, we were then ready to landscape the mounds around the pond but as we had to dig gypsum into the clay mounds with forks to help break down the huge lumps of clay into soil, the rain helped immensely....Yes I know an excavator could have done a faster job, but not only would it have gouged huge tracks everywhere in the soft soil, limited manoeuvring area, and the builders wouldn't be happy.

We arrived on our block with 10,000 plants we had propagated from seeds, cuttings, etc; and began to plant immediately after the house was built in 1996. The only thing holding us up at this stage was soil to produce mounds to plant out the majority of species we had grown. Many plants were given out to neighbours in the area.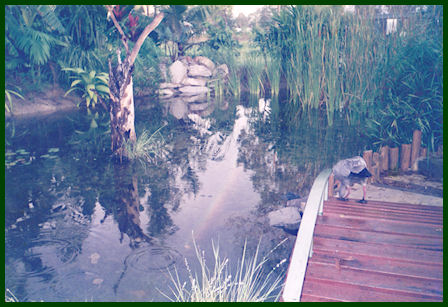 Above: Cape Barren Goose on bridge, a nice rainbow reflecting in the water. This is what we call our temporary pond set-up until we can get the landscaping materials required for the planned pond, and will have to do for now as our wedding was planned for winter 1999. We removed the Cumbungi - Typha sp (Bullrush, Cattails) not long after these photos were taken. We actually planted a couple of clumps, and I remember saying to hubby I hope they dont take over the pond and we will have to keep strict control over them so they don't. We were keeping control for a little while, but it wore thin...so we pulled them out manually.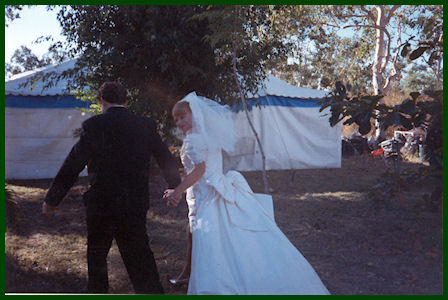 Above: "Runaway Bride" - I think not!!.... Our wedding. 1999. Marquee up behind the pond.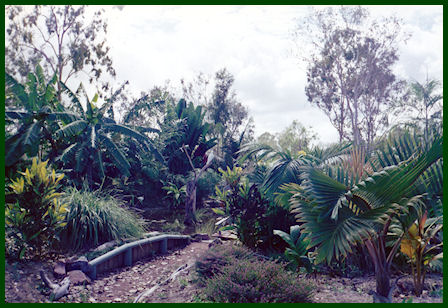 Above: Looking at pond from mounds behind house. 1996.
POND RENOVATIONS - 2000:
We captured as many fish as we could and drained the pond, got our Bobcat man back to re-dig the pond, deeper and wider in the main pond and creeks. He bought a mini excavator with him this time as well as the Bobcat.. After he was finished we got in with our shovels, forks, etc to do some final shaping, and prepared the banks for the rock retaining walls, which were also concreted down to the pond floor. Also time to build the small island and dig 600mm deep footings for the piers for our 'pagoda-like' structure and small pier entry to it.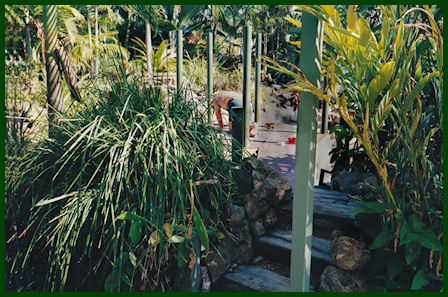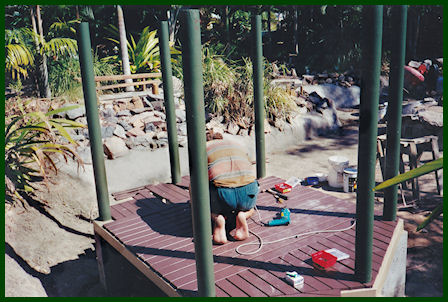 Hubby still hard at work on the floor, almost ready for trusses to be built; some rock retaining walls and concreting completed.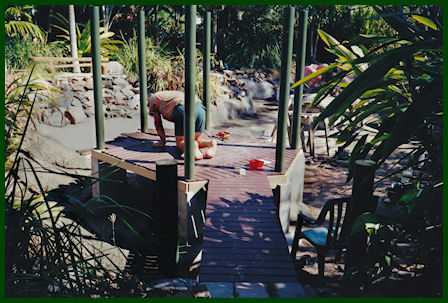 Same as above but showing little pier.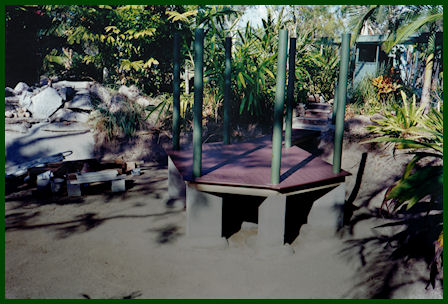 Structure ready for trusses. Lots of work to be done on banks behind and to the side up to the waterfall to prepare for low rock retaining walls - more decorative than functional. Although the footings for the piers on the structure go down 600mm I added some large concrete pads to the base of the piers for added stability, being such a tall structure which will be sitting in water for many years. There is also a middle pier under the floor.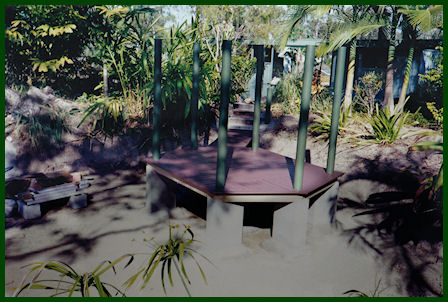 Looking from seating area on mound near one of the creeks.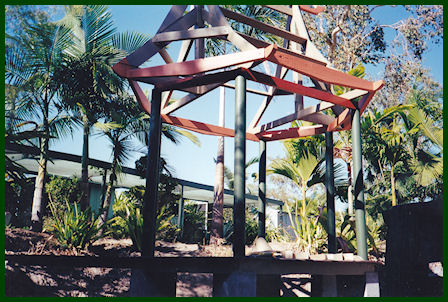 Above: Trusses up. Decided it was too difficult to take on my double-roofed design which would have made it extremely high and difficult to work on, may have also possibly made it a little top heavy, being in the water. So let hubby do his thing, with his 'bush carpentry' skills. I think he did very well, considering it's still standing and has weathered many storms including Cyclone YASI which didn't touch it.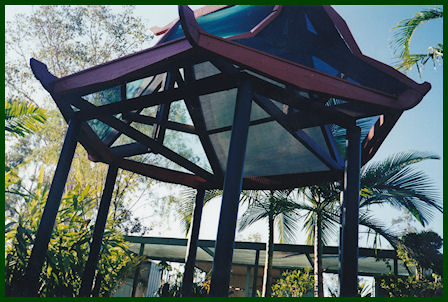 Above: Shade cloth on. Bottom layer of waterproof shadecloth and top layer of 90% I think. Original plans were either shingles or bamboo for that nice oriental look but used shade cloth until we decided. Bamboo was far to difficult to cut, and shingles may have made it a little top heavy too.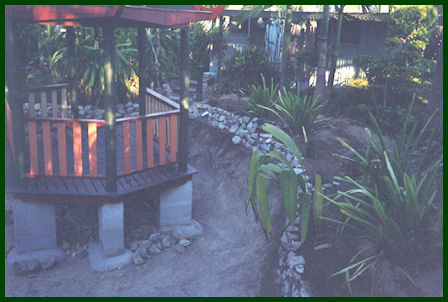 Above: Temporary 'crappy' handrails until we could get some proper handrail materials. Start of low stone retaining walls on back and side bank. Still needed to be concreted to floor level of pond.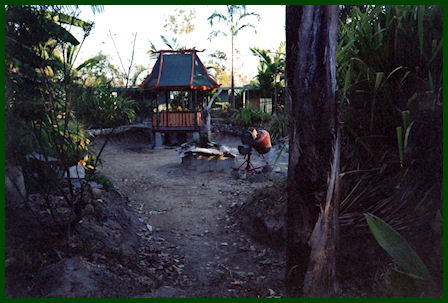 Looking from other end of main pond where other creek starts. There's another bridge beyond. Lots of hand digging required on both banks here to prepare for stone retaining walls. There's my little red cement mixer hubby bought me for my birthday a year or two ago. There's the little island built around the tree stump we couldn't get out, and the nice hollow log perch we found that we used in the pond for a perch in the earlier dig, all the birds took advantage of it until it eventually started rotting and fell into the pond.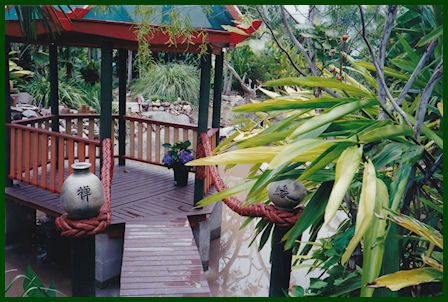 Above: Rain stops work late November, 2000. Work almost completed anyway, only missed out on completing rock wall on the bank behind the island in the photo. Never mind, seeing the pond filling up with that beautiful water we decided to give it a hand with the bore!!!. Planted some waterlilies, and grabbed a bucket of mud from the river to throw in to get a head start on the organisms required for a healthy system.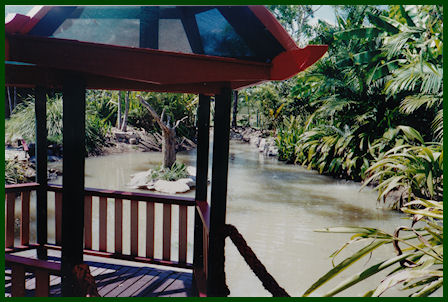 Above: Rock retaining walls finished up the other end of main pond, just in the nick of time!!.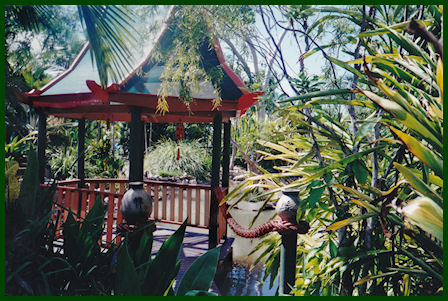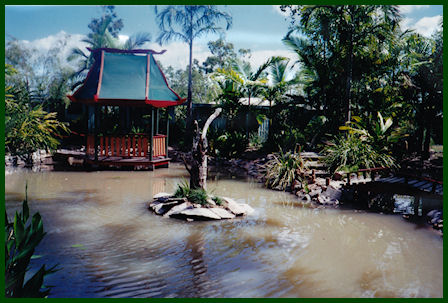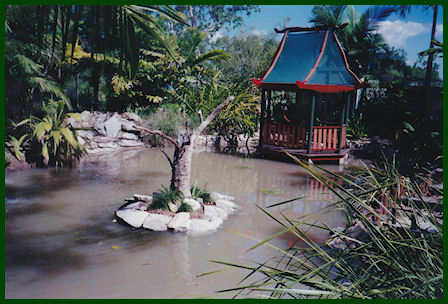 Above: Most planned renovations completed to our budget for materials. We all know how expensive timber and landscaping materials are!!. Pond filled, some waterlilies and water weeds planted, just need to wait a few days for turbidity to clear before releasing fish - big stack of native Rainbows, and on December 4, 2000, we released 26 Barramundi juveniles.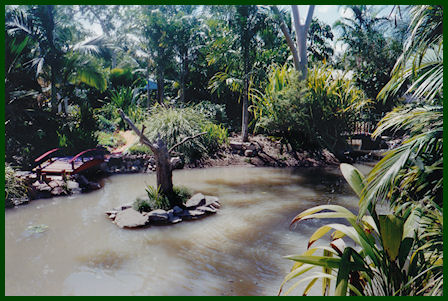 Above: Rain stops renovations on pond - November, 2000. Actually found a photo showing both bridges to the two creeks, this photo was taken from the waterfall in the 'Rainforest mound' which runs along the back of the pond.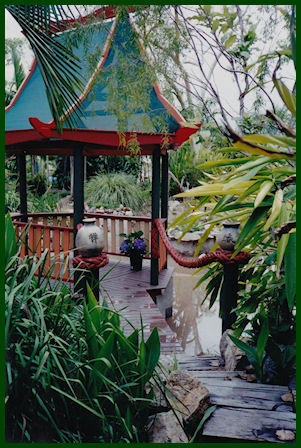 Above: Rain stops work on pond November, 2000. Finishing touches to the pagoda-like structure. We have always just called this a pagoda, as we don't know what else to call it!.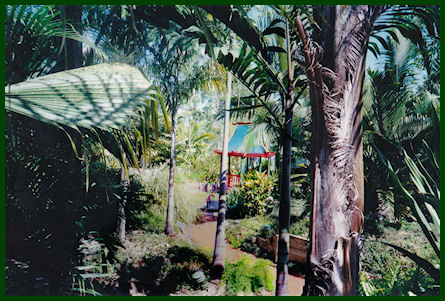 Above: A glimpse of the pond from one of the large mounds behind our house. A quite a few changes have been made on this pathway such as another stone retaining wall on left of path and removal of ground covers, and some different plantings. Everything is very large and mature now. I watered all the plants in the yard by hand with bore hose, (a good long deep watering) for first 5 years, 'spoiling them rotten' then moved onto sprinklers followed with some hand watering where required. In recent years haven't needed to water much, with the good start the plants got but with another drought coming on may have to start again. We did loose quite a few plants including some rare palms and cycads, and numerous other plants suffered damage in Cyclone Yasi, and earlier cyclones/storms, but I feel far better than losing your home as so many did who felt the full brunt of this monster storm.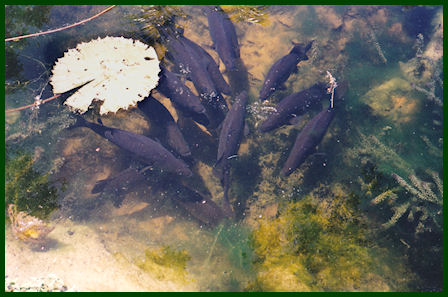 Above and below: our Barras coming up to say hello. They used to follow me around the pond whenever I watered, or were carrying out some other gardening task.