IN LOVING MEMORY OF OUR BEAUTIFUL SWEET ANGEL LADDIE: AKA: Mr Lamb, Lambsie:
AUSTRALIAN CHAMPION BLUEMORN LOVE ONTH ROCKS:
I had written an article about our boy Laddie in the Collie Rough & Smooth Club of QLD Newsletter, unfortunately I have misplaced it for now.
Laddie was sent to us a little later in his life by Karrin and Arthur from Bluemorn Collies.
Karrin had taken Laddie under her wing following his owners marriage breakup. Badly matted and underweight with the only attention of a four year old child feeding him a handful of dry kibble, poor Laddie was in dire straits and Karrin was his savior. We already had his sister Bonnie from a baby puppy. I am so glad Karrin and Arthur sent Laddie to us. Although we hadn't raised Laddie from a baby puppy, his loss was totally devastating.
We gained his Australian Champion Title - Issued by the ANKC : 20/09/2005.
Laddie is "Jack's" brother - Aust. Ch. Bluemorn Luv Inagoldcoat.
Laddie sired the litter below with Bluemorn Blaze O Glory (Blazey girl) - her very first litter - we showed Blazey here in North/Far North QLD gaining her final 79 points or so to her Australian Championship Title - Australian Champion Bluemorn Blaze O Glory. It was very difficult to send Blaze back home to Bluemorn as we were already very attached to her.
This litter was produced using AI - artificial insemination.
24/12/2002 - 2012.
SIRE: AUST. CH INGLEDENE LOOK OF LOVE (IMP.UK).
DAM: AUST. CH. BLUEMORN IAM MISS DUNDEA.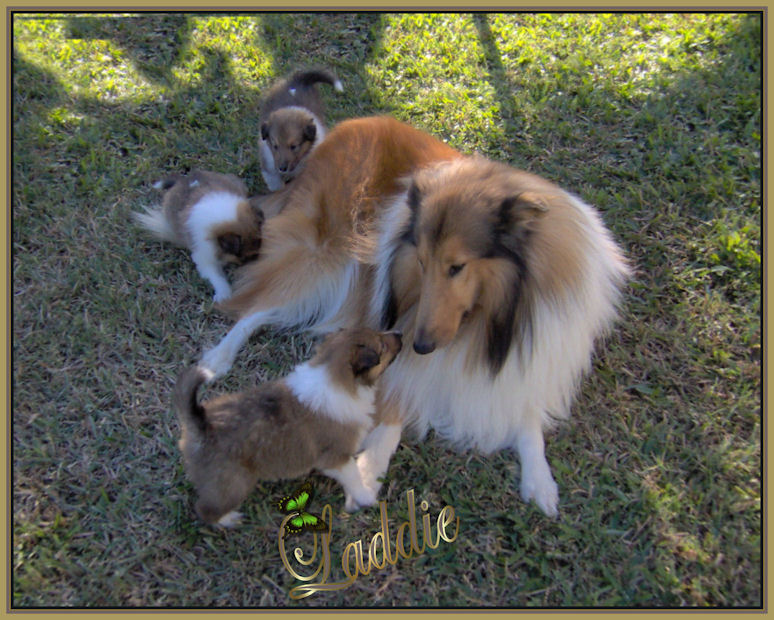 Right - our beautiful angel Laddie and his lovely sister "Bonnie" left - Australian Champion Bluemorn Made for Love - we gained her Australian Championship title which was issued by the ANKC 19/07/2005.