RECENT BIRD SIGHTINGS:

FROM MY YARD:
Wedge-tailed Eagles x 3 - 2 adults and one juvenile.
Square-tailed kites x 2.
Monday, 24 July, 2017: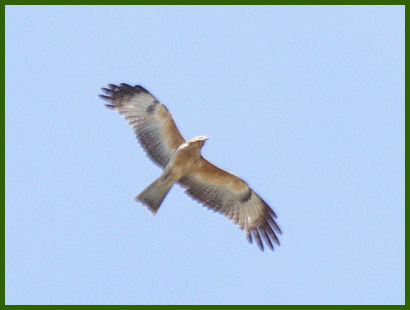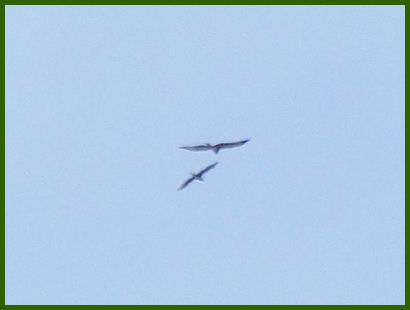 Above Top: Square-tailed Kite. Photo taken: 24/07/2017 at 11:07:18am. A little disappointing. Unfortunately I accidentally deleted the shots of the Black Kite harassing this bird, although quite blurry showed the size difference. The best shot I had was on the weekend of the 15/16 July. Unfortunately I was in amongst Murraya shrubs trying to photograph caterpillars with my 55mm lense. The beautiful Square-tailed Kite was less than 8m away from me hunting in the canopy!!...It has been some months since I have seen a Square-tailed Kite, let alone two!!..
Above bottom: Two Square-tailed Kites. Photo Taken: 11:09:54am.
2017: Haven't been doing a lot of birdwatching for a long time. Lots of Fork-tailed (Pacific) Swift sightings end of March to early April; will place info here when I get around to it.
Monday, 26 June, 2017:
A beautiful Square-tailed Kite has been hanging around for weeks, no luck so far with a photograph....Been trying to get a photo for years!!!. Lapwings keep chasing it away. The usual Pacific Bazas, (only three of them) and Brown Goshawk visiting the yard. Around 9 Black-chinned Honeyeaters, Lots of Figbirds, Black-faced and White-bellied Cuckoo-shrike, Spangled Drongo, with the Ficus benjaminas in full fruit. Rufous Whistler around for months. Boobooks as usual calling at night and early morning.
TAWNY COSTER SIGHTINGS:
Saturday 13 May, 2017:
Tawny Coster breeding on our property at Kelso Country Estate, Townsville, QLD. Tawny Coster depositing eggs on Passiflora foetida. More information and photo on 'Kelso Country Estate Fauna & Flora" page under Lepidoptera, Butterflies. More photos coming soon...
30 March - 4/5 April, 2017: Actually the real date is 29 March: With something this important I shouldn't have to hold back the actual date and how the Tawny Costers arrived here, because a few individuals might get their noses out of joint.
I believe that this would probably be the first sighting of the TAWNY COSTER in the Townsville District (that I am aware of), the first photograph I eventually captured was taken at 12:41:48pm 30 March, 2017, trying miserably to capture the Fork-tailed Swifts. Noticed the butterflies in mornings approx. 8.30-9.30am each day,( although they were more active in the hottest part of the day) right through to 6-00pm or so when I retreated inside. We received a row of storms (the tail end of Debbie - feeder band on the 29 March approx. 3:05pm. 997 hpa, 99% RH; and it had been very windy here for several days and nights as TC Debbie sat East of us moving at snails pace towards the coast and eventually crossed, and I had concerns for the butterflies with the heavy rain, which I expressed to my husband that day. With excitement I reported my sighting date without my notes or calendar on hand....after numerous days unable to get up and walk due to a back injury......the Tawny Costers had arrived here starting 29th March, 2017 prior to the feeder band from cyclone Debbie which appeared around 2:30/40PM 29 March, 2017.
We have a new butterfly in our district, the TAWNY COSTER - Acraea terpsicore, originally from India and Sri Lanka. (See Kelso Country Estate Fauna and Flora under Lepidoptera/Butterflies for photos. Poor photos but for the record.)
Late March around the time Severe Tropical Cyclone Debbie crossed the coast and moved inland.
From the 29 March, while out photographing Fork-tailed Swifts (Pacific Swift) noticed large numbers in hundreds if not thousands of these small orangey butterflies (which I did not recognise as locals) passing through up until around 4 or 5 April, with the majority on 31 March and 1 April. Most appeared to be moving in a roughly Easterly direction, although probably were moving in a more of SE direction. There was a steady flow throughout the days and they were still flying at 6:10pm while I was out trying to photograph the Pacific Swifts. As these butterflies were not known to me I checked the internet for exotic orange butterflies that migrate to Australia and found a photo of a Tawny Coster. Maybe the cyclone played a role in the butterflies' movements?. Have some poor photos from a distance mostly in flight... will post them later. Also captured one feeding on Golden Duranta flowers. We have plenty of this butterfly's known host plants in this area so can see it establishing itself and breeding successfully here in the near future, hopefully not to the detriment of our native Glasswing butterfly - Acraea andromacha.
Wednesday 2 March, 2016: Just heard from my husband that there were around 40 'needletails' feeding at Oonoomba, around 10:10am - (they maybe fork-tailed swifts,or both?)...... maybe someone in that area can find out which birds they actually were for certain. Went outside here at around 10:20am could only see a few Fork-tailed Swifts heading in a roughly northerly direction. Very cloudy and windy here. 1009.5 hpa. 33.5 degrees, 58 RH. Tuesday 1 March overnight had 32mm rain. Still hearing Black-faced Monarch.

Monday 22 February, 2016: More later:::::

Far too many sightings to catch up on at this stage: but here are a few highlights:
Southern Boobook - used to hear calls outside my bedroom window for many years since we've been living here. Ever since we have put the new aircon in the bedroom don't hear much, and haven't gone outside late at night for years. Since we have had visitors and gone outside for a smoke - 11 February, 2016 - several Boobooks calling at 11:12pm in front yard, and every night since, at various times. They were calling last night Sunday 21 Feb, at around 8:45pm, but when I went inside to get the camera to record them, they stopped calling. Have heard them around 5:30am when on the computer. Do have recordings from other nights.

Little Bronze-Cuckoo from 12 December, 2015; lots of Channel-billed Cuckoos since September 29, Horsfield's Bronze-cuckoo, 3 sightings of Oriental Cuckoos.
Pallid Cuckoos January 1 and 6, along with Olive-backed Orioles, starting with around 6 calling. 1 to 3 orioles calling daily since.
1 x Female Eclectus Parrot - obviously an escapee on November 18, 2015. All aviary escapees must call this place home as we have had numerous Eclectus and King Parrots here over the years!.

17/11/2015: 1:17:33pm - Appear to be mostly White-throated Needletail. Possibly in 100's - High Altitude. .Will have to check photo.

***** 2 February, 2016 at 9:14:08am - only a few Fork-tailed Swifts.
3 February, 2016 - 9:50:15am to 10:13:44am - 7 x Fork-tailed Swifts at start, several White-throated Needletails present, numbers of Fork-tailed Swifts increasing as time went on, no accurate count, cloud building.
10 February, 2016: - 2:30:42pm - Black-faced Monarchs two definite, 3 other birds present, didn't get a good look at these but saw rufous bellies on these. Been hearing short calls daily ever since. One Yellow Oriole.
Approx. 50 Fork-tailed Swifts - 4:37:06pm to 5:06:53pm, with several White-throated Needletails. Two Wedge-tailed Eagles 10 and 11 February, other times too.
11 February, 2016 - 9:20am approx. Approx. 7 Fork-tailed Swifts.
12 February - Fork-tailed Swifts at 8:54:59am. Have to check notes for numbers.
20 February - Forest Kingfisher. 2 x Wedge-tailed Eagles. Well over 100 Fork-tailed Swifts. 9:13 - 9:52am approx. had to come inside...melting. Feeding between tree top level and thousands of feet.

Heard Fork-tailed Swifts (FTS): 22 January & 28 January at night around 7:00pm, sounded like a lot of birds.



Sunday, 15 November, 2015:

*****Flock of Budgerigars -approx 50. Heading in a roughly northerthy direction (fairly close to the base of the Pinnacles). Unfortunately I didn't record the exact date - was either 8/11/2015 (5:24pm), 12/11/15 (5:30pm) or 13/11/15. I was really cracking up as I was about to press the shutter and received a warning that the camera had run out of memory so had to race inside to download photos to the computer and delete them from the card to free up some space.
This crap happens all the time!.....battery exhausted or card!!!.
Anyway my husband was trying to get me up early this morning saying how many good birds were out there, but too tired to get up.......when he came back from Ayr later this morning informed me of the around 40 Budgies he saw in our yard this morning......I didn't hear the 'Budgie' part otherwise I would of been up and out there like a shot!!!. Can't understand why these guys would be coming here as they have had some rain out west, surely they would think they're in hell when arriving here and turn around and go back to where they came from!!!.
2 x 'pairs' Black-chinned Honeyeaters this am. Usually don't bother mentioning these guys as they as here all the time, and I get very p....ed off that I can't get a decent photo of them!!.
Pied Currawong still visiting. Lots of Koels and Channel-billed Cuckoos.

Brush Cuckoos calling since 5/6 November that I've noticed.

*****Fork-tailed Swifts - approximately 50 FTS (Fork-tailed Swifts) with a few Fairy Martins, White-breasted Woodswallows and Dollarbirds; thought I saw a few WTNT (White-throated Needletails) and possibly a few Australian Swiftlets among them but not positive with this new lens (with a focal length of only 200mm).
Took the new camera and (lens purchased yesterday) out in the yard at 9:47am and found Fork-tailed Swifts darting about hawking for insects. Photos taken of Pacific Baza in flight around 10:24am; took the last photo of the swifts around 11:06am, although they were still there in smaller numbers around 11.30am, went back outside at 12:10pm and no surprise that they had fully dispersed.
Of the storms approaching us yesterday evening (Saturday, 14 November, 2015) we only received around 3mm (Nylex) commencing at around or after 9:00pm last night.

Saturday, 14 November, 2015:
Storms approaching will check notes.
New lense purchased. Sony FE - f/4 - 70-200mm G OSS. Quite surprised that the photos taken with this new lens and the Sony a7ii turned out far better than anything I've taken with the old Sony DSLR a230 and Sigma 150-500mm...or with the Sony a7ii, E-mount to A-mount adaptor and Sigma 150-500mm DG OSS lens.
Pacific Baza in flight and Fork-tailed Swifts in flight only using Aperture Priority on new camera with this lens are far better (more detailed) than ones I've taken in the past!!!.

Friday, 13 November, 2015: 6 x Varied Trillers.

Thursday 12 November, 2015:
Several Fan-tailed Cuckoos calling 7:53am.
Pacific Bazas visiting regularly - usually two or more, usually spending hours in the yard, but yesterday afternoon around 5:10pm only saw one. Resident Black-chinned Honeyeaters visit many times a day, and Resident Fuscous Honeyeaters still visiting daily. Stood out the front yard, camera in hand at Fuscous Honeyeaters' favourite trees, typical .....they decided to have breakfast down the backyard this morning.!!!!.

Throughout September and October have seen a number of PIP's (Pied Imperial-Pigeons) passing over our property, mostly heading north and in small numbers, however failed to record them. October 24 on the way back from the city around 11-00/11-30am saw one at Cranbrook (Ross River Road) coming in for a landing in a palm.

11 November, 2015: Heard PIP calling from behind our house, went to get the camera saw three PIP's in backyard.
2 x White-necked Herons flew over front yard at 4:47pm.
10 November, 2015: 8 x PIP's (Pied Imperial-Pigeons) flew in from front of property to Eucalypts behind our pond at around 7:30am. Several Forest Kingfishers calling. A beak in rain showers -
Approx. 14 Dollarbirds, unknown number of Spangled Drongos, Fairy Martins, 65 Black Kites, etc; all out during the break in rain showers. (8-9mm registered in Nylex/automatic weather station).
9 November, 2015: Got up early and went outside with the new camera to test it out around 5-30am. Saw several flocks of PIP's (Pied Imperial-Pigeon) during this time. Got photos of the last two flocks one at 5:55am the other at 6:11am, both containing 6 birds. One earlier flock as seen through camera had approximately 8-10 birds. 6:37am 8 x Royal Spoonbills flew over. Forest Kingfishers calling.
8 November, 2015: 10:16am - First Forest Kingfisher I've seen in awhile. Took a few photos. Found photos this morning from 24 January, 2015, 18 and 28 April, 2015; and 5 January, 2013, and February and March 2013-these were the only photos labelled with Forest Kingfisher.
27 October, 2015: Approx. 45 Red-backed Fairy-Wrens at 12:31pm approx. Front and side of yard - Males displaying to females puffing up their red backs. They are everywhere!!. Later at 1:06pm went down the back yard - 10 or more Double-barred Finches feeding with Red-backed Fairy-Wrens on the few sticks of dry grass left available.
26 October, 2015: Lots of Striated Pardalotes about, trees are "crawling" with them.
Male Varied Triller calling at 2:27pm, female arrives at 2:34pm, he displayed to her. They then disappeared over the road.

8/11/2015:- Adult Blue-faced Honeyeater collecting nesting materials from Fijian Fan Palm.

25 October, 2015: Lots of White-winged Trillers still about. Males moulting into/or are in breeding plumage, most WWT are paired up. One Female Leaden Flycatcher in backyard with 2 x male suitors.

22 October, 2015: 2-3 Wedge-tailed Eagles at 8:34:36am. Towards Pinnacles.

****** Wednesday, 21 October; 2015: 10:37am: Five (5) White-throated Needletails seen heading roughly in a more South-easterly direction from previous southerly observations yesterday. Flying low.
Black-faced Monarchs still present as are White-winged and Varied Trillers; Rufous Whistler x 2; Grey Shrike-thrush calling mornings; and Black-eared Cuckoo heard calling this AM. Also hearing Rufous Fantail calling fairly regularly. Pacific Bazas visited this AM around 9:00am.
Other wildlife: 5:17am noticed large rodent with long tail running along Fijian Fan Palm petiole from pandanus. Unfortunately no camera and it was just a silhouette. Had lots of smaller native rodents over the years since we have established the garden, but this guy seems to be larger. Microbats that we have been watching since our house was built are still here. Not certain what species they are, they roost in Corymbia platyphylla.

****** Tuesday, 20 October, 2015: Seven (7) x White-throated Needletails heading roughly S around 7:09am. (I went inside for a snack shortly afterwards). Flying low. Went back outside around 8:00am and saw three (3 more White-throated Needletails at 8:11am heading in same direction. 10 x WTNT in total.
7 x Channel-billed Cuckoos this AM; one later visiting our backyard at lunchtime. Had a little rain. 20+ Australasian Figbirds enjoying the short shower of rain around 12:05pm... I think (observation from our front verandah).
Heard Black-faced Monarch calling around 2:40pm, so took camera out to our pond. It was fairly overcast by now. While searching for these guys heard a splash and saw a commotion in the pond - it was one of my favourite snakes - a Keelback - Tropidonophis mairii (Freshwater snake) trying to consume a cane toad. We have always had a healthy population of Keelbacks.
Couldn't resist the opportunity of taking some photos!!!. Hopefully the poor little guy "didn't bite off more than he could chew" as it appeared as though he/she was having some difficulties in swallowing the toad, last I saw of the Keelback he was heading off with head held high with some toad (mostly it's head) still hanging out of his mouth. Keelbacks are non-venomous totally harmless freshwater snakes; they have a limited immunity to cane toad toxin and can safely eat small and medium sized toads, but consuming larger toads can lead to fatal consequences - but I think it's all relative to the size of the snake!!!!.....on the other hand a larger cane toad can eat the snake!!.
Did get some poor photos of the male Black-faced Monarch, just for the record. Have only seen the female three times since seeing them for the first time on 1 October, but have heard them calling to each other. Heard a Pale-vented Bush-hen calling from the other end of our pond at 3:39pm. Hopefully will decide to breed here once again.
Monday, 19 October, 2015:
I think last photos maybe of Black-faced Monarchs, will have to check photos/notes. These guys go through hiding stages where they are heard and not seen!!.

Sunday, 18 October, 2015:
Pale-vented Bush-hen accidently flushed from rainforest path (path on rear section of pond) at 2:54pm approx while I was following a Pacific Baza after he/she took a dip in the pond. Hopefully the Bush-hen decides that it will be worthwhile raising young here again, even though it's much much drier this year.
BTW: The Pacific Baza taking a dip in the pond is the Baza that I've observed bathing in the pond several times; this bird has a missing claw (talon) on the middle Left pedal digit (toe). Good timing that I scooped the outer edges of the pond as this is where the Pacific Baza took a dip today!!.
Always need a supplementary clean of the pond after a major clean......something is always missed, and more sunlight, heat, light (and nutrients) always adds up to more algae growth.....scooped some filamentous algae from the outer edges of the pond that I could reach this morning with a rake and large skimmer net and long pole. I have to get in the pond during the week to get the remainder and debris from the pandanus blown in by strong winds.
After an initial inspection of algae scooped from the pond we seem to have a healthy population of naturally occurring native (algae eating) Glass Shrimp Paratya australiensis,( the only native shrimp that will eat cyanobacteria/blue-green algae) will have to check if there are any other species of native shrimp in our pond.
Saturday, 17 October, 2015: 10:33am.

Lots of Channel-billed Cuckoos calling early this morning. Heard and got first glimpse of a Pale-vented Bush-hen around 9:45am at our pond.. Dogs have been barking at something for at least a few days, could hear some rustling in the leaf litter but I didn't see anything until this morning after I finished taking photos of a Pacific Baza eating a large grasshopper, other Bazas were calling as they flew past and were still calling at 10:43am. About 4 weeks ago, my husband, our young friend Beau and myself did a huge clean up on the pond and surrounding area, many birds are enjoying the pond and even had a Whistling Kite and Baza taking dips. Got some photos yesterday of a Brush-tailed possum in it's den in our pandanus and a black flying fox roosting nearby.

Friday 16 October, 2015: 8:00am.
1 x Channel-billed Cuckoo has been visiting our yard every morning and afternoon since their arrival in September. Have seen 5 this morning. First visit to our yard was seen off the property by a pair of Magpies, joined by 4 x Magpie-larks. Can't get any decent photos!!!. Channel-billed Cuckoos fly over several times a day. Numbers seem to be down this year thus far, as with Eastern Koels, but it is early in the season. Brown Goshawks are seen several times daily, and seem to be targeting Red-winged Parrots, Scaly-breasted and Rainbow Lorikeets. Collared Sparrowhawks seen most days as with Brown Falcon. Pacific Bazas visiting regularly, and seen and/or heard several times a day, 2 in yard yesterday, one early this am. From September Olive-backed Orioles seen and heard calling daily. Pied Currawong still here. Varied Triller heard 7.50am. Fuscous Honeyeaters seen and heard early mornings, feeding in Corymbia platyphylla, (same trees Channel-billed Cuckoos perch in) with White-winged Trillers and other species.

Monday 12 October, 2015:
First Dollarbird in our yard for the season. One Wedge-tailed Eagle seen.


Sunday 11 October, 2015:

3 x Pacific Bazas 4:30pm.

Saturday 10 October, 2015:

Black-faced Monarchs are still here and seem to have moved in for a little while. Pied Currawongs still in area and visiting our backyard. Brown Goshawks have been chasing Red-winged Parrots and Lorikeets. Around 30-40 Red-winged Parrots being chased this AM. A few sightings of Rufous Fantails over the last few days, the latest this PM, still haven't managed photos of these guys as yet. White-winged and Varied Trillers, Rufous Whistlers, are still about, lots of Black-faced and White-bellied Cuckoo-shrikes; Little Friarbirds, Blue-faced Honeyeaters, Red-winged Parrots, Brown, Brown-backed, Yellow, White-gaped honeyeaters; etc.

Thursday, 8 October, 2015:
A great day for birds!!.
***** Grey Goshawk - flying at treetop level over backyard.
**** Two Australian Hobbies/Falcons - @ 10:49:23am.
Collared Sparrowhawks and Brown Goshawks.
**** I found two Black-faced Monarchs having a dip in our pond on 1 October, the male landed within 1.5 metres of me in a small shrub so I got a very good look at him - unfortunately no photos- no camera with me; raced inside to get the camera shortly afterwards but to no avail; heard them calling twice in trees surrounding the pond the next day. Have seen these gorgeous birds on numerous occasions over the years but couldn't list them until I had photographic proof.
These Black-faced Monarchs have been calling numerous times daily since my first sighting on October 1....thought I heard them calling this morning but couldn't see them due to the very bright clouds, they were calling and feeding with Scaly-breasted/Rainbow Lorikeets in our front C. platyphylla until a Collared Sparrowhawk flew overhead. The Lorikeets panicked and flew in all directions, this is where I gave up trying to find the Monarchs at this time..
The Black-faced Monarchs seem to like feeding among the Scaly-breasted/Rainbow Lorikeets, and are heard frequently calling when the Lorikeets are present. Since I got a good look at these gorgeous guys on the 1 October I am now tuned in with their calls. Very windy dry weather has made it difficult to take photos. Below is one of several photos I took yesterday afternoon at around 3-00pm when I went out to check the mail. It doesn't pay here not to take a camera outside every time you go out!!!!.bloody windy, and the camera is still switching from Aperture Priority to Program Auto, etc. So we only have a Exposure/shutter speed of 1/50-1/60 for a focal length of 420mm. The Exposure should at the minimum be at least the focal length of the lense. The focal length of the lense is 420mm therefore the exposure/shutter speed should be at least 1/420. When you have high winds blowing the trees around like crazy.....just lucky to have captured these photos!!!.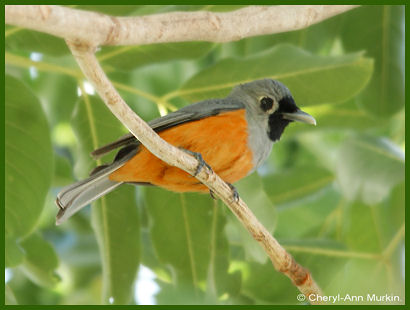 Photo of male Black-faced Monarch. Taken: 3:35:26PM - 8/10/2015.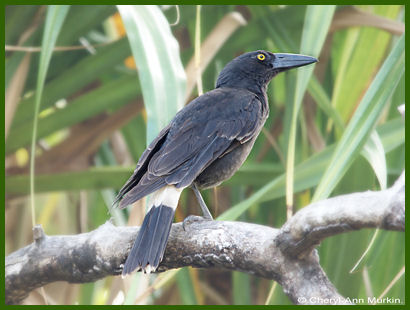 Photo of Pied Currawong. Taken: 8/10/2015 - 9:44:55AM.
Several Pied Currawongs been hanging around the area the last few weeks at least, one that I know of has been visiting our yard, eventually managed to capture some photos this morning of one perched close to the house where one of the Pacific Bazas usually perches. Please see Bird Photography page for more photos.
Channel-billed Cuckoos arrived weeks ago, one CBC in our yard 23/9/15, days before 4 CBC.
Followed by the Koels; been having a small invasion of Noisy Friarbirds. Will check notes later for dates.
Pied Currawongs, Australian Magpies, Noisy Friarbirds, crows and Australian Ravens are among the host species for Channel-billed Cuckoos and Eastern/Pacific Koels.
Usual visits from Black-chinned Honeyeaters numerous times daily (up to 6 or more birds), Black Falcon, Brown Goshawks, Collared Sparrowhawks, Pacific Baza/s, Australian Hobbys, flyovers of Yellow-billed Spoonbills, Eastern Osprey, etc.
****Thursday, 27 August, 2015:

NESTING PACIFIC BAZAS: Will catch up on sightings at a later date, have not been out watching and photographing birds due to a sick Collie, the pleurisy, and trying to fit in some artwork; but have some exiting news.....our local Pacific Bazas are nesting!!!. Been calling as they flew over since at least the 18/19 August, and gave a couple of great courtship tumbling flight displays on Sunday 20th August at around 8-8.15am, until the Masked Lapwings chased them away, and observed again on the morning of the 23rd. There were three Bazas present, the third Baza has been around since at least last September, I believe this bird may be from an earlier clutch, more so than another suitor. So looking forward hopefully to some youngsters in a little over a couple of months!!!!!.

****6 x Pacific Bazas and 1 x Brown Goshawk - Monday June 22, 2015 - 2.44:10pm. Watched them until 3:10:56pm but the rain got a little heavier - not good for the camera!. Maybe these 3 Bazas were from an earlier clutch??.
Pleasant surprise yesterday, heard Masked Lapwings going crazy and this usually means there's a hawk of some kind such as Brown Goshawk, Collared Sparrowhawk or Pacific Baza. Found our two usual Pacific Bazas behind our house, one at the pond, the other on it's usual perch closer to the house. Decided to go inside and get the camera and follow them about for awhile as I haven't been going out watching birds too often lately due to a chest infection making it difficult to lift the camera. Weather is overcast and drizzly. Found another Pacific Baza in the yard, (probably the one I have been seeing occasionally since at least last September 2014) and heard a commotion in one of the yards behind us, there were two more Pacific Bazas having a little altercation with what appeared to be a female (due to it's larger size) Brown Goshawk, then saw another Baza land in the E. platyphylla on the side of our yard. So six Pacific Bazas today.

***As Black-chinned Honeyeaters are always seen/heard numerous times daily here, - will only mention sightings of 2 or more birds, if I actually go outside to view them!. Checked my records in photos for 2014/15 and Black-chinned Honeyeaters are present all year round in this area. Have photos and notes for every month.
Only just recently started to keep any sort of records, so are patchy at best.
Brown Goshawks - one adult male, one adult female, and one immature/juvenile? can't quite make out in photos I have. There is also a Collared Sparrowhawk seen less frequently than Brown Goshawk. I think is a male judging by small size and notched tail. Have changed my mind about the sex of this Collared Sparrowhawk having seen the male within a couple of metres at shrub height, there is a male and female Collared Sparrowhawk!. Will have to check for notes in photos for dates, if I've written them down!.
21 June, 2015: Collared Sparrowhawk prior to 9:50am, no camera., White-winged Trillers seen, Varied Trillers heard and seen. 35 x Red-tailed Black Cockatoos at 4:49pm. Not counting others throughout the day.
19 June, 2015: 4:52:39pm Peregrine Falcon, seen several times.
20 June, 2015: Two flocks Straw-necked Ibis - a couple of hundred at least-underestimating again!. 11:59pm, soaring high. Not very well organised - a bit of a mess actually. Have original photos. These photos are not the same birds, in fact I think I've missed a photo.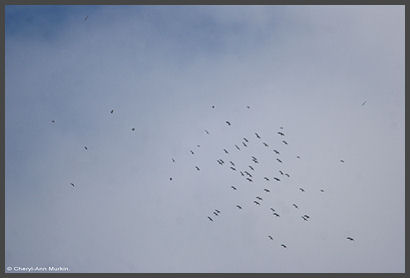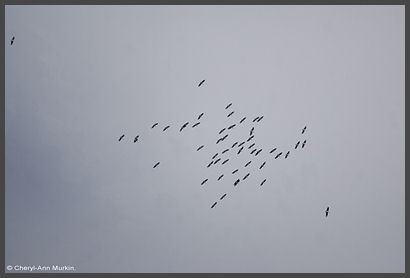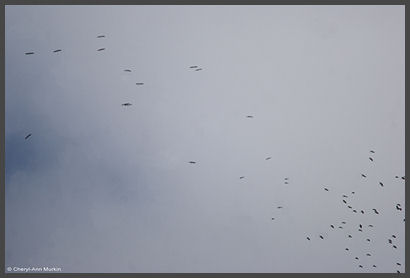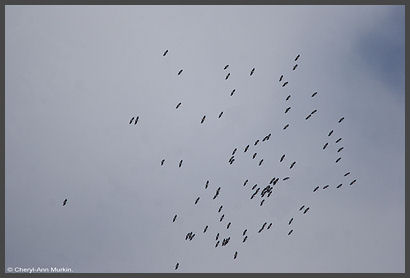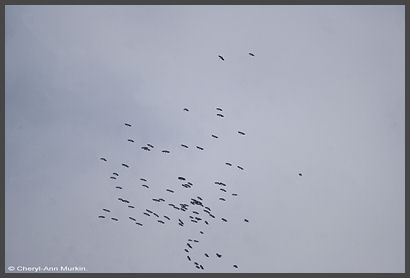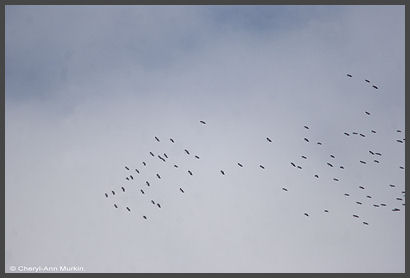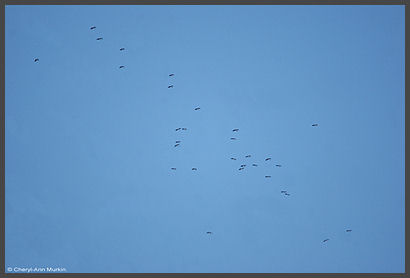 Several minutes later + another 16 birds. Different flock.

Wednesday 10 June, 2015: Will catch up on other sightings later!. At least since the later weeks of April have been seeing quite large numbers of Mixed flocks of Magpie-Larks and Blue-faced Honeyeaters in the evenings daily. Today is the first time I stayed around for the whole 'show', from around 5-00/5:15pm to 5:48pm watched a continuous flow of well over 600 Magpie-Larks and Blue-faced Honeyeaters coming from a south/south-easterly direction heading north during that time period. It appeared as though Magpie-larks were in the majority over B-FHE. Reported on Eremaea Birdline.

Part of the Autumn/Winter migration north of many Magpie-larks, hope these guys keep going through to Cape York, NT, South PNG and Timor.

Many landed in trees and on powerlines and didn't settle for sometime, taking off in large clouds - I found they were were hawking for insects, and landing again, they repeated these manouevres numerous times.

By the sound of things some of our neighbours must have been watching too!...

Quite a few dark clouds about this afternoon. Very windy in the morning. Light rain and drizzle yesterday, overnight, and this morning.

Numbers of common species in general in our area have been up for months, with Little Friarbirds, Australasian Figbirds and Blue-faced Honeyeaters all doing very well. It has been quite impossible to count all the birds in the evenings with different species going everywhere, it's been pretty crazy, but I decided I would do a count on these, after seeing so many daily.

Tuesday 9 June, 2015:

2 x Pacific Bazas being chased by several Masked Lapwings.

1 x Brown Goshawk/Collared Sparrowhawk.

2 x Brown Goshawks.

6 x BCHE - Black-chinned Honeyeaters.

Thursday 4 June, 2015:

AM: Collared Sparrowhawk or Male Brown Goshawk hunting low at treetop level across the road, didn't manage a photo. Upsetting Rainbow Lorikeets. White-winged Triller landed in tree across the road to get away.

Wednesday 3 June, 2015:

Varied Trillers have been calling for some time, but hadn't had the opportunity for a photo until today. While they are in the yard they call until you race inside to get the camera and stop calling before you get there!!.

Varied Triller female, others calling, as well as White-winged Trillers. Usually do have good numbers of White-winged Trillers around throughout the year. Will have to start keeping better records!!.

Tuesday 2 June, 2015:

Just tried a couple of quick counts on Pelicans, Rainbow Lorikeets and Straw-necked Ibis (only those in flight at the time coming from the south of our property).

Pelicans - only counting those going one way - starting at 10:08:23am for 12minutes, 53 seconds - 141 Pelicans, and may have missed a few here and there going between trees.

10:02:55am - 3 x Brolgas - between Pelicans.

Rainbow Lorikeets - less than 30 seconds - close to 3:35pm - 75 Rainbow Lorikeets in flight (only looking to the south of our property) not counting any you could hear feeding in trees and our yard, there was also a flock of 24 Pelicans. You can be guaranteed if you walk out in the yard at any time of day that you will see Pelicans!...if they are not there straight away if you wait a few minutes to 10 minutes you will see a flock or multiple flocks.

Sunday 31 May, 2015:

Earlier this morning - small hawk chasing smaller birds pretty low. Didn't get good enough look at it for accurate ID - either Collared Sparrowhawk or male Brown Goshawk. But judging by flight action and fine build would have to go for the former.

Sunday, 31 May, 2015: 10:00am approx.

Hundreds of White-browed and Masked Woodswallows, with some Little Woodswallows.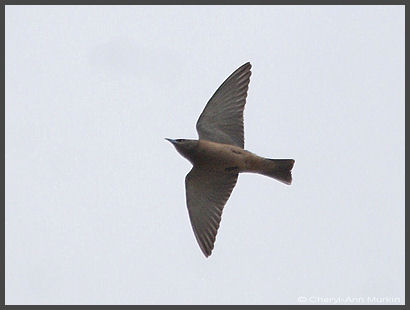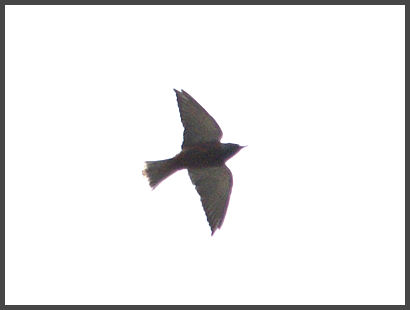 Only photos I could manage with my camera playing up. Above and below - White-browed Woodswallows.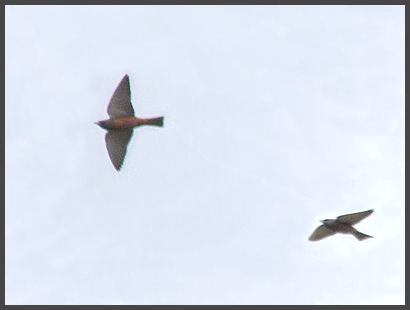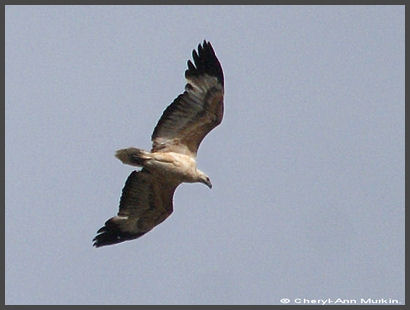 Above - one of two White-bellied Sea-eagles soaring with two flocks of Pelicans.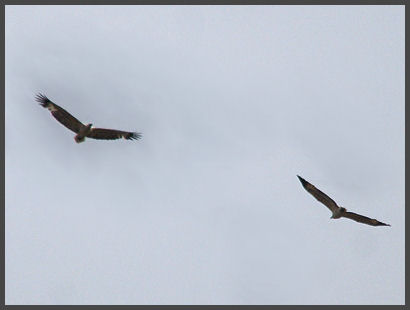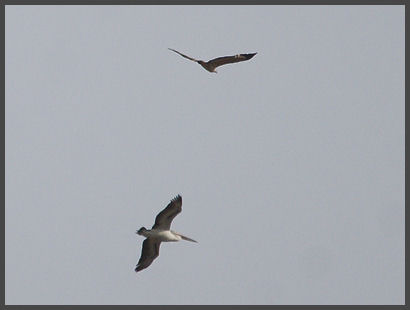 Above Top - 2 White-bellied Sea-eagles, and below - one White-bellied Sea-eagle with Pelican.


Peaceful Doves - 14 in this photo. Just prior to taking these photos the whole powerline was full of Doves, many have flown away, there were others on other powerlines, in our yard and neighbours yards too so no count on them. Below photo: There are 16 on this powerline. Obviously these were what the Collared Sparrowhawk was chasing earlier. Overcast conditions but just starting to clear a little, had to brighten all these photos up a fair bit.




30+ White-breasted Woodswallows just prior to arrival of White-browed, Masked, Little Woodswallow flock.
2 x White-bellied Sea Eagles.
2 x flocks Pelicans - no count as we have many flocks fly over throughout the day/every day.
1 x Brown Falcon.
1 x Brown Goshawk.

Saturday, 30 May, 2015:

1:00pm: 2 x Brown Goshawk.
4:55pm: 1 x Brown Goshawk & 6 x Black-chinned Honeyeaters.
5:25pm: *** Small flock of 6-8 Budgerigars heading S/SW, other earlier sightings they have usually been heading N/NW direction.

Tuesday, 26 May, 2015:
am: 4 x Black-chinned Honeyeaters.
3:45pm: at least 4 Black-chinned Honeyeaters. 4 x seen, more were heard across the road feeding in eucalypts.

20 May, 2015:

2 - 2:30pm: 1 x Brown Goshawk - photos.
1 x Wedge-tailed Eagle - 5:15pm.

19 May, 2015:

1 x Wedge-tailed Eagle 4:30 pm - hunting low.
17/18 March, 2015:
Brown Goshawk hunting around Poplar Gum (Eucalyptus platyphylla - Syn: E. alba) on driveway side of yard.

15 May, 2015:

2 x Wedge-tailed Eagles, soaring together - one appears to be Juvenile/immature, a bit high up, but have 'crappy' photos.

14 May, 2015:

5:05pm - 1 x Hobby battling strong winds.
1 x Brown Falcon.
1 x Brown Goshawk.

13 May, 2015:

9:00am Approx. 1 x Collared Sparrowhawk in front of 40+ Sulphur-crested Cockatoos and 6 Little Corellas.