WILDLIFE IN SCRATCHBOARD:

WILDLIFE IN SCRATCHBOARD:
Finally picked up the chimp board again (which I started around May or June last year) reworked some areas to make the drawing stand out more as it was very soft, and finally finished off the last area remaining, as I had been procrastinating for too long. With high temperatures and even higher humidity here in North Queensland scratchboard is certainly very challenging!.

As the entire drawing has been scratched directly to the board with no transferring, finishing off the mothers face wrinkles was a daunting task, so this was one area I avoided like the plague!. All wrinkles were scratched with scratchknife and consist of small scratches and some stippling. Some wrinkles on the forehead and towards the farthest side of the face sandpaper or eraser was used over the scratches.
The piece is entitled "Tender Reassurance". Not the best of photos. IRL the fur is much darker in fact much more blackish with a very soft hint of mauve or blue in places where the light hits it.
The baby's ear, hand, face and skin under the hair on his head and arm consist of many layers of stippling (dots) with the scratchknife and coloured inks.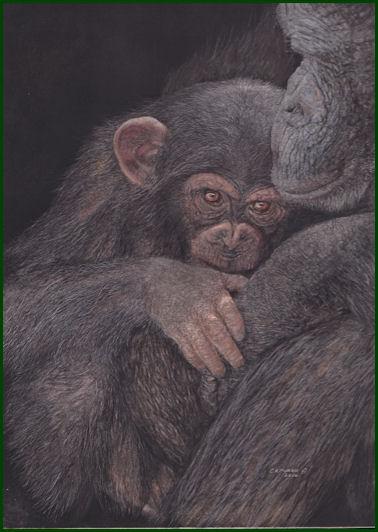 (R) Sort of getting closer to the natural colour of the original piece, although this looks kind of purple here. Placed my 9" x 11" Claybord in my own A4 scanner at home, doesn't quite fit, but a better result than the professional scanner at the printers which was a very expensive glorified photocopier machine, very dissappointed.
I am proud to announce that the finished snow leopard piece entitled "Ghost Cat - Snow Leopard" has found it's new home at Port of Townsville LTD. This piece won Highly Commended at the Townsville Agricultural Show - Fine Arts, section "Works in Black and White".

Below are images of the not quite complete work of a lovely 6 month year old male snow leopard. Unfortunately I didn't get the chance to photograph or scan the finished sprayed work prior to framing as time was limited. The piece is entitled "Ghost Cat - Snow Leopard". Thank you so much to my FB friend Emmanuel Keller - AKA Tambako the Jaguar (Flickr) for his kind permission to use his lovely photo of Indeever as a reference photo for this work.
Using 'artistic licence' I changed his gaze and face angle from the original reference to look directly at the viewer and have added my own background - my very first attempt at a BG in scratchboard!. Although I have strived for a realistic finish to my ghost cat - my intentions with my very first background was not meant to portray a life-like reproduction of his actual habitat but a mere suggestion using exaggerated textures.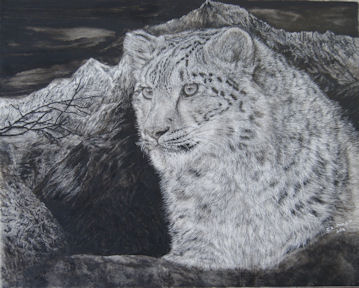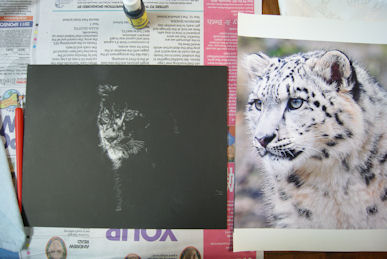 The image on the right is a very early stage WIP image of "Ghost Cat - Snow Leopard" on 10 x 8" Ampersand Scratchboard - AKA Claybord Black. On the right side of this image is the beautiful reference photo of Indeever - a six month old snow leopard taken by my FB friend Tambako the Jaguar - Emmanuel Keller.....and there is my favourite tool on the left (Ampersand scratchknife with fine nib) and above the scratchboard is Ampersand's "Black Repair" Ink.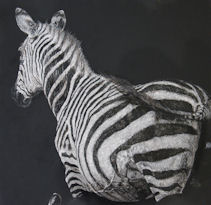 Small part of a larger board, which would have been my third board, however after waiting for over 8 or 9 months for replacement nibs had lost my inspiration on this one, I started this one a long time ago. I ended up purchasing my nibs from another supplier!. This board will use a mixture of different reference photos.
Below is my second scratchboard, simply entitled "Lioness" on 8 x 10" Ampersand Claybord Black, otherwise known as Scratchbord Black. This is my interpretation of this lioness which was inspired by a reference photo courtesy of
Andrew Ross, Flickr,
world traveller and great photographer.
Thank you Andrew.
Basically this board is finished although more detail will be applied to the nose prior to spraying with fixative. Spraying with fixative eliminates dirty marks and blemished areas from the board bringing out the very best in the image accentuating colour, detail and contrast. Please excuse the oily fingermarks.
Below on the right of the Lioness is the tool I used to create the collie and the lioness, as you can see the fine nib is very worn out!. The tool is called an Ampersand knife - which comes with a fine nib as seen below and a curved nib (still in pristine condition), the tool can be purchased in a kit of tools or by itself. I purchased this tool by itself as there were no kits available at that time and this is by far my favourite tool, ....although I did use a little very fine sandpaper under and over the scratches at the base of the neck and re-inked to render an 'out of focus' appearance to these areas. I recommend that if you do wish to purchase the Ampersand scratchboard knife to order lots of spare nibs at the same time as they are difficult to source in Australia, and you can only sharpen them so many times with either sandpaper or a whet stone.
Other similar nibs are the Hunt/Speedball nibs that are used by the experts and I believe can be purchased from Daniel Smith Art Supplies in the USA.
Below the photo of the lioness I have added one more image to give the viewer some idea of the degree of detail involved just in the facial area...unfortunately I am having great difficulties in capturing the fineness of the scratches in these images without some blurring. No fibreglass brush has been used in the creation of any of my boards thus far.
The neck area of this lioness was especially challenging and a great exercise in hair direction and layering!. The cropped image bottom left is larger than actual size.
These photos were taken prior to rendering full detail on the nose, further ink washes and a little more scratching throughout.
The African Lion - Panthera leo is listed as Vulnerable on the IUCN Red List. Understandably, the majestic African lion is an enormous inspiration and big favourite with many wildlife artists, particularly scratchboard artists. Unfortunately, thousands of lions are being bred and held in captivity in South Africa for the purpose of "canned hunting" for trophy hunters. These semi-tamed animals are held in fenced areas along with their prey as easy targets for hunters.
More information can be found on the HSI website by clicking on the link below: