EQUINE ART & WORKS IN PROGRESS:
I was hoping to enter some equine art prizes this year, but to no avail, my health hasn't been that great, having been through cancer treatment - surgery, chemo and radiation some years ago.
I've taken my own photographs at Cluden Racecourse - in learning how to use my DSLR camera - being an amateur photographer, I did find several photographs amongst them that would probably make a good basis for drawings or paintings, certainly nowhere near the high standard of a professional photographer, but OK.
FIRST EXPERIMENTS IN SOFT PASTELS:
Materials:
Graphite pencil for drawing,
A very limited range of Schmincke soft pastels;
Faber-Castell soft pastel pencils,
700mm x 500mm white Art Spectrum Colourfix paper.
SpectraFix Degas Pastel Fixative.
EXPERIMENTS IN SOFT PASTEL and my very first full horse drawing in many years, as I have drawn and painted heads and necks of horses in recent years.
I am so out of practice it took me quite a long time just to do the drawing, and have readjusted the drawing numerous times with the pastels as I go especially the legs of the horses and the rump on the front left horse, and pulled out one of my old horse anatomy books to make up for shortcomings in my amateur photos.
Being a 'Lefty' I was working roughly from right to left.
The large expanse of blank white paper was very daunting and I wondered how am I going to get this large sheet of white paper covered with this new medium, especially as there was a lot of grass and unattractive buildings behind the horses, at first I started doing some detailed grass close to the horses but gave up on that as it was taking far too much time so tried numerous ways to cover more ground, which is far easier in oils!!.
My husband offered his opinion and thought that the buildings in the background shouldn't be used, although I did think that the buildings were part of the real life setting for this particular racetrack.
A large problem with me is that I love detail and found this paper to be too rough to get the fine details I am used to, and even with the pastel pencils I couldn't get the detail on the rough paper, much easier on smoother paper with a brush and paint or on scratchboard with a blade for me.
I believe that a smoother paper such as PASTELMAT would be better suited to my type of work.
The paper does hold a lot of layers of pastel, (and many pastelists would love it) but in places I used the SpectraFix Degas in an effort to gain more layers (and reduce the risk of accidently taking off pastel). Just a little word of warning the spray nozzle isn't that great on the SpectraFix - as with many fixative nozzles will spurt and splatter, and even tend to flood areas if you're not careful, floating areas of pastel particles particularly from the pastel pencils away leaving you with areas to repair.
I've tried almost everything on this painting including mixing the water mixable Schmincke soft pastel with water and applying it with a brush, fixatives such as SPECTRAFIX DEGAS Pastel Fixative, and also tried a canned workable fixative.
I had accidently removed layers and /or damaged detailed areas such as veins and tack when I've used a large fluffy mop brush to remove some eraser debris from the painting - a habit I picked up whilst doing scratchboard, you can't use a brush to dust off a pastel ninny!, also using absorbent kitchen paper which I used to cover the work to protect from dust also removes pastel and tends to smudge it when moving the painting from one area to another.
Instead of negative painting which I believe I should have used, I started first with the horses as I couldn't wait to try the pastels on painting a horse. In the past I've done a lot of drawing of horses starting at a very early age, and also tried oil pastels and oils over the years. The oils I found were the very best medium for painting horses, but unfortunately very slow drying particularly here in tropical north Queensland.
My husband purchased these soft pastels for me thinking that this medium would speed up my work, just not happening!!, as I will always render the detail and numerous layers I believe are required for a realistic rendering.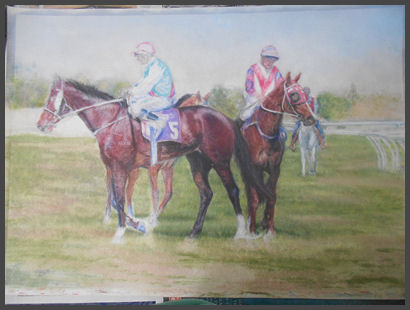 Work in progress and a long way from completion - photo taken standing above and looking down on the table I work on - under fluorescent lighting. The brightness on the left side of the painting is from a fluorescent light.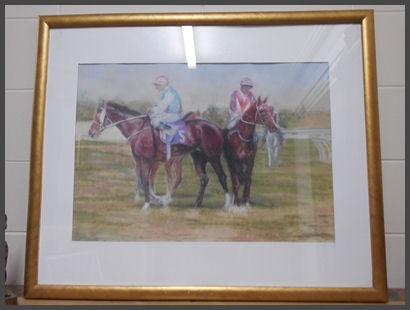 Unfinished artwork in temporary frame.

Above:

After numerous mistakes with this new medium I had lost my 'mogo' on this painting, (well actually realising how much dust it creates with lung problems) left it sitting on our pool table gathering dust for many months, the dust had became so thick I felt it was totally ruined and was ready to 'bin it'.

On Mothers' Day (I'm a dog mother, my dogs are my kids), my husband cleaned all the dust off my painting and threw it in this temporary frame in an effort to revitalise my inspiration to finish it.
His efforts did work - I felt like pulling it out of the frame and finishing it, but on closer inspection I found a quite an amount of pastel had been taken off or smudged a fair bit, so it will take some work to repair, and not a good idea at the moment with a chest infection; I think the SpectraFix pastel fixative helped a great deal in keeping lots of layers of pastel intact. I did lose a fair amount of detail, highlights etc; but far less than I would have lost not using a fixative.

Anyway in the meantime I've decided to try a watercolour, just have to decide on which horses to paint from my photo references, and start on the drawing/painting this weekend hopefully.





WATERCOLOUR:
GRAPHITE:
SCRATCHBOARD:
WHAT IS FINE ART?
DEFINITIONS & MEANING:

FINE ARTS ARE ALSO KNOWN AS VISUAL ARTS.
THE CATEGORY OF VISUAL ARTS INCLUDES ALL THE FINE ARTS AS WELL AS NEW MEDIA AND CONTEMPORARY FORMS OF EXPRESSION........
Excerpts from:
The term "fine art" refers to an art form practised mainly for it's aesthetic value and it's beauty ("art for art's sake) rather than it's functional value.
Fine art is rooted in drawing and design-based works such as painting, printmaking and sculpture. It is often contrasted with "applied art" and "crafts" which are both traditionally seen as utilitarian activities. Other non-design-based works regarded as fine arts, include photography and architecture, although the latter is best understood as an 'applied art'.
The area of fine art is constantly being extended to embrace new activities arising because of either new technology, or artistic invention......................Because of this gradual widening process, it is almost impossible to fix a meaning for fine art......................
During the 20th century, with the introduction of the category of visual art, this arbitrary distinction has become blurred...........................
Definitions of fine art are obliged to change with time, but most encompass the following activities:
charcoal

chalk

pastel

pencil

pen and ink

book illustration
encaustic painting

tempera painting

ink and wash

oil painting

watercolour painting

gouache

acrylics
woodcuts

engraving

etching

lithography

silk-screen printing
photography

architecture

Illustration

Manuscript Illumination

Calligraphy

Animation

Caricatures/cartoons.
and recently:
---
Fine Arts: The study and creation of visual works of art.
---
Fine Arts:
1. Any of the art forms that include drawing, painting, sculpture, and ceramics, or occasionally, architecture, literature, music, dramatic art, or dancing, usually used as plural.
2. Any highly creative or intricate skill.
---
1. Art produced chiefly for it's aesthetic value, as opposed to applied art.
2. Also known as Beaux Art/s (often plural) any of the fields in which art is produced such as painting, sculpture and engraving.
Collins English Dictionary.
---
Art produced or intended primarily for beauty rather than utility.
Any of the art forms such as sculpture, painting or music, used to create such art. Often used in plural.
Something requiring highly developed techniques or skills.
---
SCRATCHBOARD AS A FINE ART MEDIUM: SCRATCHBOARD ARTISTS OF THE WORLD UNITE TO HAVE SCRATCHBOARD RECOGNISED AS A 'FINE ART' MEDIUM IN IT'S OWN RIGHT:
Scratchboard fine art has become popular with many international collectors and scratchboard artists have been making extraordinary sales and winning awards in some of the most prestigious art exhibitions in the world....and yet the majority of the public and art communities have little knowledge of scratchboard....therefore most exhibitions, art fairs and shows have no separate categories available for scratchboard. When organisers of such shows/exhibitions are asked by the artist what category/medium to enter their scratchboard/s in they are met with: Drawing, Multimedia/Mixed Media, Painting, Works on Paper, Any Medium; Pen and Ink; etc.
The time has come to give the fine art medium scratchboard the recognition it justly deserves by creating a separate category for scratchboard!.
Scratchboard is a technique/medium where drawings are created using sharp tools and knives, and sometimes abrasives such as sandpaper or steel wool, etc.
As a fine art medium scratchboard drawing uses similar techniques to etching and engraving and is widely used for illustrating books, magazines, etc. Scratchboard is the medium of choice for many professional illustrators and is rapidly gaining popularity among 'fine' artists (particularly animal artists) due to it's versatililty and the high level of detail and realism which can be achieved with this beautiful medium. Scratchboard is also ideal for portraits, landscapes, maritime, abstract, and fantasy pieces!.
Scratchboard is also the cousin to woodcuts and printmaking. A little known fact is that 'Claybord' can be used to create prints using a number of printmaking techniques such as intaglio, lithography, relief printing and mono printing using the claybord surface as the plate; in place of woodcut blocks, linocuts, and metal engraving/etching plates, and can also be used to receive the print rather than using paper; additionally simpler less detailed scratchboard illustrations/designs may be used for screen printing.
Scratchboard artists use sgraffito, pronounced skra-fito - (meaning "to scratch") techniques, scratchboard also encompasses 'pen and ink' and 'ink and wash' techniques; using mainly an inverse variation of pen and ink being a 'subtractive' medium; however scratchboard artists will use a combination of traditional pen and ink, inverse pen and ink, and ink and wash techniques during the creation of their scratchboards.
Many scratchboards are part engraving/etching and part ink drawing, which requires excellent drawing skills, a keen eye for detail, a great deal of dedication and patience as highly intricate detailed pieces can take many hundreds of hours to complete (no matter the size of the piece). Individual scratchboard pieces may consist of tens/or even hundreds of thousands of tiny scratches and dots (stippling) utilising only a sharp instrument to create a multitude of textures, shadows and highlights.
Scratchboards many be left B & W or coloured. B & W versions are usually created using only ink but other mediums such as graphite, charcoal, watercolour, oil and acrylic paint or pastels, or a combination of mediums may be used. Colouring - may be done using Ink, or other watermediums such as acrylics and watercolours; oils or pastels or any mediums in combination, a rarely used medium in scratchboards is Tempera.
Colouring of individual pieces will vary from tinting (a hint of colour) through to full colour - whatever the intent of the artist whether rendering an illustration, drawing, or even a scratchboard painting.
Both B & W and coloured scratchboards also require painting skills where mediums may be applied with a paint brush, sponge, airbrushed, etc (using normal painting techniques as per medium).